Boosting Automotive Efficiency with SERV™: Custom Dealer Software
Posted Date: 6/08/23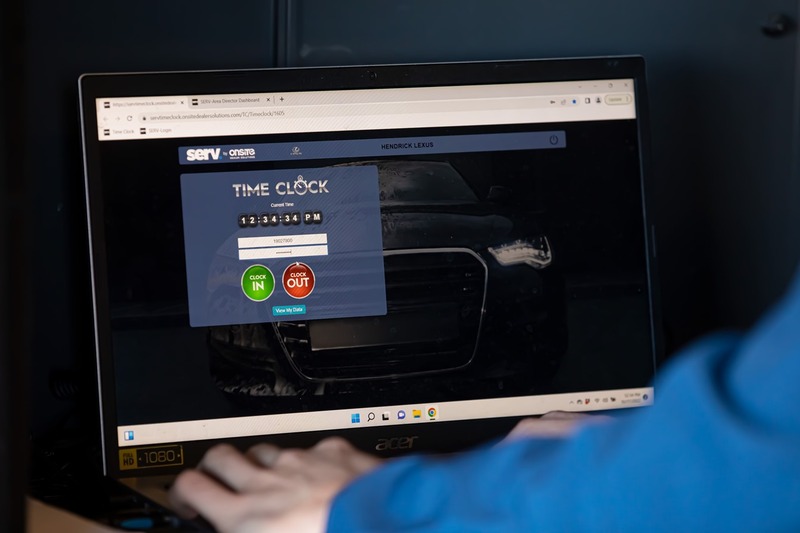 INTRODUCTION TO SERV™, PREMIER DEALERSHIP SOFTWARE
In the fast-paced automotive industry,
efficiency and organization are crucial for the success of any dealership
. Onsite Dealer Solutions (ODS) understands this need and has developed SERV™ Automotive Software, an advanced custom dealer solution that caters to automotive businesses.
In this blog post, we will explore the features and benefits of
SERV™
, showcasing how it enhances vendor management, streamlines workflow tracking, simplifies invoicing, leverages Vin Scan technology, integrates with DMS, and enables online work order creation at a touch of a button.
Discover how

SERV™

can transform your dealership operations
and drive productivity to new heights using intelligent and intuitive software that's customized for car dealerships.
VENDOR MANAGEMENT MADE EASY
The
SERV™
customized SaaS (Software as a Service) vendor management feature allows dealerships to efficiently manage their vendor relationships.
By centralizing vendor information, tracking performance, and streamlining communication,

SERV™

simplifies the procurement process
. Dealerships can ensure timely delivery, simplified billing, and maintain strong vendor relationships, all within a single, user-friendly platform.
SEAMLESS WORKFLOW TRACKING
Tracking workflows is essential to keep automotive operations running smoothly. The
SERV™

workflow tracking capabilities enable dealerships to monitor and manage inventory within the dealership's operations in real-time
. With customizable workflows, alerts, and notifications, dealerships can ensure that every step in the recon, make ready, or maintenance process is completed efficiently. This feature improves transparency, accountability, and collaboration across departments, leading to improved customer satisfaction, speed to market and operational efficiency.
STREAMLINED INVOICE PORTAL
Managing invoices can be time-consuming and prone to errors. The
SERV™
invoice portal simplifies the invoicing process for dealerships.
By automating invoice generation, tracking, and payment reconciliation, the software streamlines financial operations and improves dealership effectiveness
. Dealerships can easily manage and track their payables and receivables, reducing manual effort, improving accuracy, and ensuring timely payments by using the
SERV™
software solution which was built to do specifically that.
HARNESSING VIN SCAN TECHNOLOGY
SERV™
leverages Vin Scan technology, enabling dealerships to effortlessly retrieve and store vehicle information. By scanning vehicle identification numbers (VINs), dealerships can
access key details such as make, model, year, and work orders instantly plus know, in real time, whether recon and detail cars are on the lot or still inside of a bay being worked on
. This feature eliminates manual data entry, reduces errors, and speeds up processes like vehicle appraisals, inventory management, and sales.
DMS INTEGRATION MADE EASY
To maximize efficiency, it's essential for dealer software to integrate seamlessly with the dealership's existing systems.
SERV™

offers robust integration capabilities with leading Dealer Management Systems (DMS)
. By synchronizing data across platforms, dealerships can eliminate redundant tasks, enhance data accuracy, and ensure smooth information flow between different departments. This integration provides a unified view of the dealership's operations, leading to better decision-making and improved overall efficiency.
CONVENIENT ONLINE WORK ORDERS
The
SERV™
online work order functionality revolutionizes the service and make ready operations of automotive dealerships.
With customizable digital work orders, dealerships can efficiently manage recon and repair requests, track progress of work orders, and document service history
. Customers can also access the online work order portal to view status updates, authorize repairs, and communicate with both the ODS team and service advisors. This feature improves communication, reduces paperwork, and enhances the overall customer experience.
LEARN MORE ABOUT ONSITE DEALER SOLUTIONS
Onsite Dealer Solutions'
SERV™
custom dealer software offers an array of powerful features designed to streamline operations and enhance efficiency in automotive dealerships. From gaining control of your business processes and increased insight into your operation to managing inventory, vendors, and work orders more seamlessly,
SERV™
provides a comprehensive solution tailored to help grow dealerships revenue.
By leveraging

SERV™

, dealerships can save time, reduce errors, improve collaboration, and deliver exceptional customer service all from one application
. Embrace the future of automotive operations with
SERV™
and experience the transformative power of customized dealer software as a service by Onsite Dealer Solutions.