Invoice Portal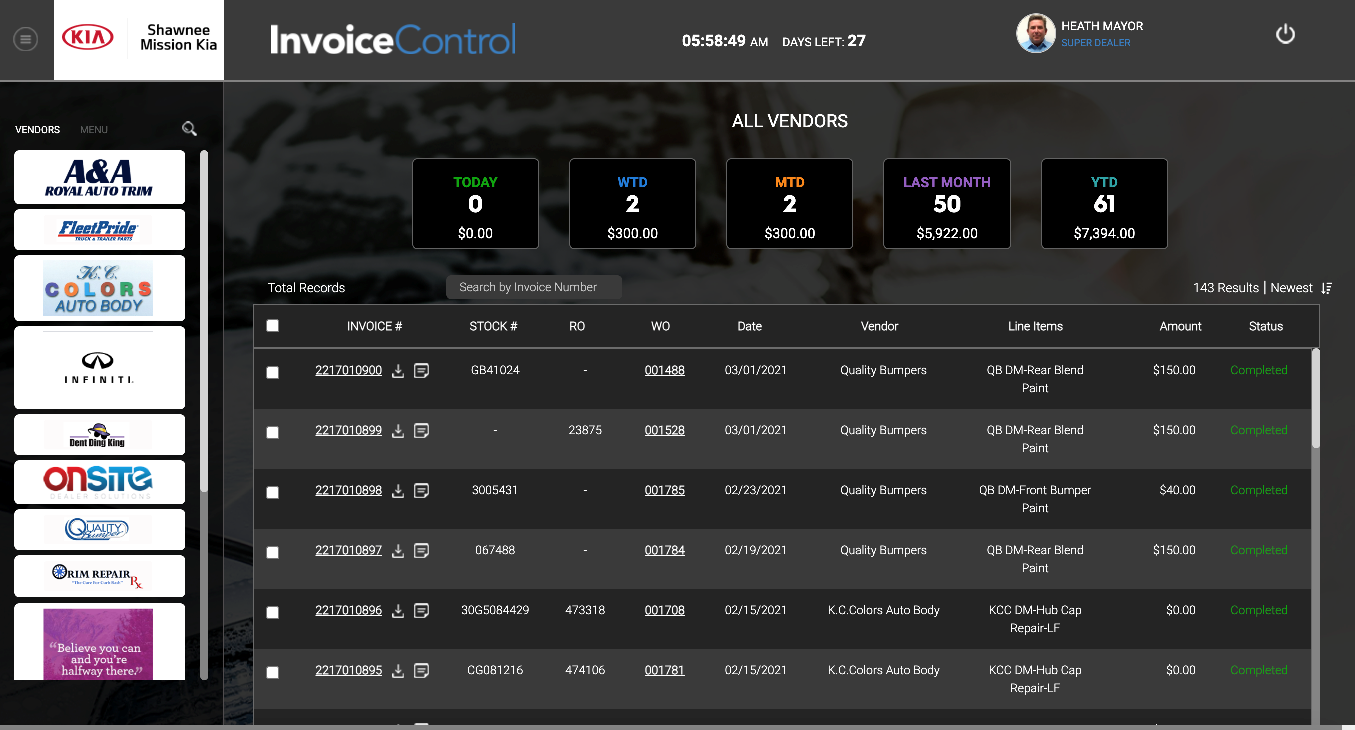 Filter Your Invoices Freely
Most invoicing, and inventory management tools used by car dealerships today are outdated, non-existent, or cumbersome
. Onsite Dealer Solutions (ODS) decided to create a software solution to help this process called,
SERV™ Automotive
.
SERV™ is an inventory and vendor management tool meant to create accuracy for billing, tracking, and organizing your inventory flow, work orders, vendors, and invoicing in one place in real time.
Integrated within a dealerships DMS system, SERV™ helps create efficiency amongst your accounting and accounts payable team at the touch of a button. When paying vendors, having a filtered paper trail that shows who authorized the work, who did the work, who approved it and when it was completed prevents misplaced invoices and reconciliation at end of month.
Controllers, payables, or anyone needing to view an invoice loves to have the ability to filter information.
ODS software and our invoice portal a

llows filtering

by invoice number, repair order number, VIN number, and date of invoices,
all of which are housed inside a DMS system.
ODS sympathizes with overworked and understaffed accounting offices inside a dealership. In many cases, these teams must account for more than one store. It made sense for ODS to create a system that makes outsourcing accounting easier to close out the day and more importantly, simplify month end closing.
Benefits of SERV™:

Eliminates PO, Billing, and Invoice Reconciliation Headaches
Tracks Inventory Progress During Detail and Recon Work Orders
Simplifies Paying Invoices to Outside Vendors in One Place
Integrates with Dealerships DMS System
Increases Dealership Productivity and Profitability
Decreases Misplaced Invoices and Duplicate Billing and Invoicing
Decreases Inventory Chaos and Fixed Ops Department Headaches
Improves Speed to Market and Inventory Turn Times
Contact Free Services and Transactions
Easily Filter by VIN, Invoice Number, Repair Order Number and Dates
Mobile and Desktop Browser Capability
Leaves a Completed Work Paper Trail for Accounting, Payables, and Controllers

Intuitive, Intelligent, Unique, Connected and Valued Software as a Solution
SEE HOW ODS CAN HELP SIMPLIFY YOUR ACCOUNTING PROCESS

Onsite Dealer Solutions is proud to serve car dealerships all across the United States!
With over 150 nationwide customers, we encourage you to read some of our excellent
customer reviews
and see for yourselves what others have to say about our work.
Whether you are in need of
outsourced staffing
for your make ready detail and reconditioning services, or you'd like to explore our
technology
to see how we can help produce more profitable and productive inventory and vendor management results, give us a call at 913-912-7384. You can also
email us
if you prefer.