Online Work Orders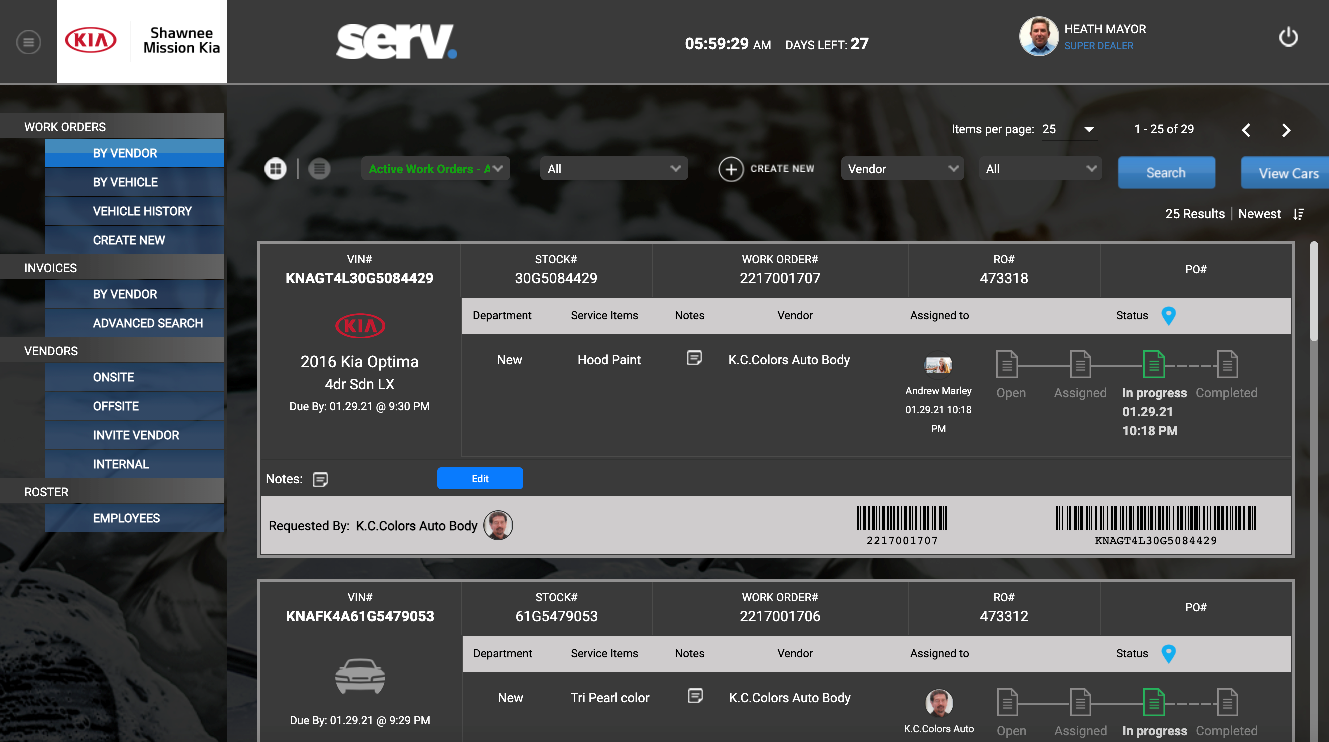 Track Work Orders Quickly
In the automotive dealership world, on the service side of things, a work order is the same as a repair order. If a customer comes in for service and needs an oil change, alignment, transmission flush or a car detail, a work order is started.
The same holds true for your lot inventory. If a car comes in on trade or bought at auction and needs detail or reconditioning work, a work order is initiated through the dealerships DMS system.
It's important to know where cars are at during the work order process
. The simpler the process, the more efficient a dealership can run. It's a big reason Onsite Dealer Solutions (ODS) created its own proprietary software solution, called
SERV™
, which integrates directly with your DMS.
SERV™ allows all your departments across your entire dealership the ability to see where work orders on inventory and service jobs are at in real time as well as the duration, special notes, photos, and completion status of the work done by ODS.
From RO to PO and desktop to mobile, SERV™ solves everyday problems dealerships face when it comes to inventory management and work order status. All ODS work orders contain a bar code that shows VIN number, dealership stock number, service department repair order numbers, the make, model, year, and color of the vehicle, helping simplify internal processes.
Benefits of SERV™:

Integrates with Dealership DMS System

Allows for Easy Cross Department Communication

Intuitive Design - Easy to Operate on Mobile or Desktop

Eliminates Double Entry, Variable Paperwork and Inventory Tracking Hassles
Improves Productivity and Dealership Profitability
Billing, Purchase Orders

Real Time Tracking on Work Orders

Tracks Recon Duration, Notes, Photos, Service Worker and Completion Status

Eliminate Controller Headaches for Billing, PO, and Invoice Reconciliation

Improves Speed to Market and Inventory Turn Times
Anticipate Recon and Make Ready Staffing Proactiveness
Contact Free Transacations and Services
LET ONSITE DEALER SOLUTIONS SIMPLIFY YOUR RO PROCESS

ODS serves over 150 dealerships across the United States and includes SERV™ software for each and every client to utilize, creating more efficiencies for dealerships to track RO's closely without the fear of duplicating orders or misplacing them.

If you'd like to take advantage of a free tutorial of our software as a solution, give the ODS team a call at 913-912-7384 or if you prefer,
reach out in email here
.