One Employees Journey at OnSite Dealer Solutions
Posted Date: 7/26/23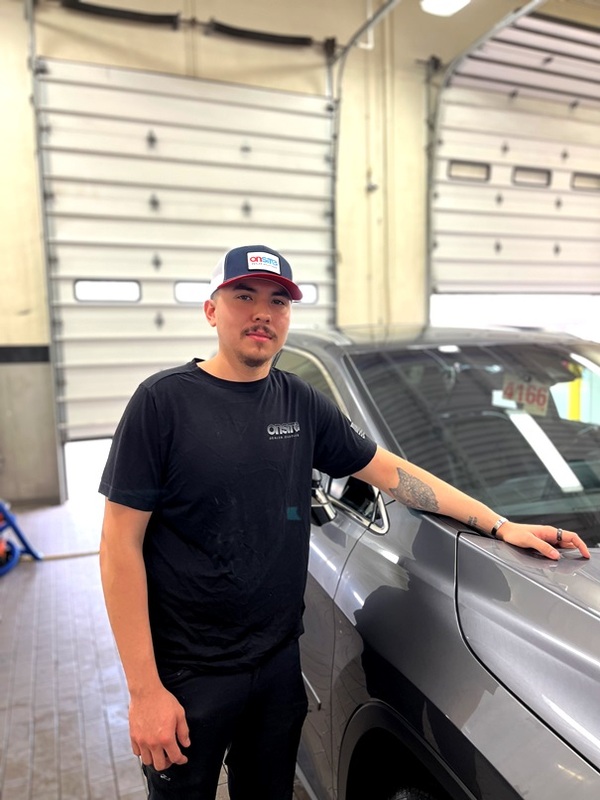 OnSite Dealer Solutions (ODS) employees are the lifeblood of our operation
. Without good team members, we could never have evolved like we have, and it starts with people who care about their work and the roles they perform as well as how we as a company take care of them.
With over 500+ ODS staff members employed across the United States now, we thought it would be good to share a typical story of one employee's journey working through the ranks of the company.
It's been 4 years now since Gabriel started working for ODS.
He's a happy, straightforward type of guy who works hard and is dedicated to his craft
. In the beginning, back in 2019, Gabriel applied for an hourly, entry level service wash position and was hired on. Although he didn't have a lot of experience in the automotive space, he was eager to learn his role which he says is half the battle if you want to advance within the company.
FROM CAR WASH TO PORTER
After a short 3-month stint, Gabriel's hard work paid off as he was promoted to a car dealership porter, a role he thoroughly enjoyed. As a porter, Gabriel worked hand and hand with the car dealership's sales and service teams, getting a front row education into how a car dealership truly works.
Gabriel says it was here, in this role, that he grew a passion for his job while learning the ins and outs of how a car dealership operates. Some of his daily tasks as a porter were to complete jobs that helped the sales and service teams complete items they needed done. He says,
"We worked together, I was the dealership's 2nd hand man for anything they required. Whether it was managing the lot, running errands, being on call for sold car delivery or getting customers cars shuffled for service, I ate it up. It was one of the most enjoyable jobs I've had working for OnSite and it literally prepared me for the future roles I would be in."
FROM PORTER TO CAR DETAILER
A year in a half after joining OnSite, Gabriel was promoted to a 3rd role within the company. This time, he would go from his hourly porter position to car detailer, an assignment that brings with it a more competitive commission style payment plan.
He says,
"I was hungry to make more money and put all of my efforts into my work to do so"
. Gabriel took pride in making a car shine, whether it's a trade-in, a new car coming in from a transport truck or a service vehicle coming in for a detail.
"There's nothing more important to me than putting a serious effort into detail work, after all, it's my name that's on that completed job"
, he says.
Gabriel would be the first to say he owes it all to his national trainers and co-workers for their dedication to training him on the job.
"I had great teachers and we learned different tricks and tips that accomplished the same tasks. We really followed each other's lead to create more efficiency by working together"
, Gabriel says.
FROM DETAILER TO SITE MANAGER
Gabriel is now a Site Manager at one of ODS's busier dealership clients in Kansas City, a role he has been in now for 1.5 years. As a Site Manager, Gabriel is responsible for managing his make ready and reconditioning teams so that the overall operation runs smoothly.
What he loves most about his current position is how the team works together. He mentions his team is motivated, incentivized, and works on tasks together for the greater good of the operation. He also feels that being a leader is best done by doing the work with the team. More specifically, Gabriel says,
"I would never ask my team to do something I wouldn't do"
.
With a goal of quality, efficiency, and always striving to find ways to adapt, improve, and overcome, we not only set up our customers for success, but we also create a team blueprint that other teams at ODS can follow.
SPECIAL NOTES FROM ONE EMPLOYEE TO A NEW ODS HIRE
In summary, Gabriel loves his job. He loves the people he is surrounded with and often hangs out with them when they aren't working together.
If there's anything he can share from his experiences working for ODS it's this
:
ODS is one of the best companies out there to not only work with but grow with. If you care about your work, your family, and have an eagerness to work hard, there is no greater reward than working for a family like ODS who appreciates and incentivizes your effort.
The company, Site Managers and Area Directors all strive to help you. They take the time to get to know you and work around your life's requirements. From flexible hours, great pay, and unique master training, you can take these skills that you learn here and expand upon them either in new roles with ODS or abroad.
SUMMARY
Heath Mayor, Owner of OnSite Dealer Solutions, says,
"Gabriel represents our ideals at ODS. Like myself, Kylan, Drew, Jeremy, and others, he started at the bottom rung and continues to climb higher and higher. His management skill is only surpassed by his work ethic and infectious positive attitude."
Kylan Williams, the Area Director who oversees Gabriel's team in Kansas City has this to say,
"Gabe is a profoundly dedicated manager on my team, consistently going above and beyond to provide exceptional customer service."
OnSite Dealer Solutions would like to thank Gabriel for his candid interview and the valuable time he dedicated to answering our questions. We encourage prospective candidates considering opportunities with OnSite Dealer Solutions to
visit our career page
and gain insight into the numerous benefits we aim to offer as part of our company family culture.