Car Dealerships Thrive with ODS Detailing and Recon Expertise
Posted Date: 11/13/23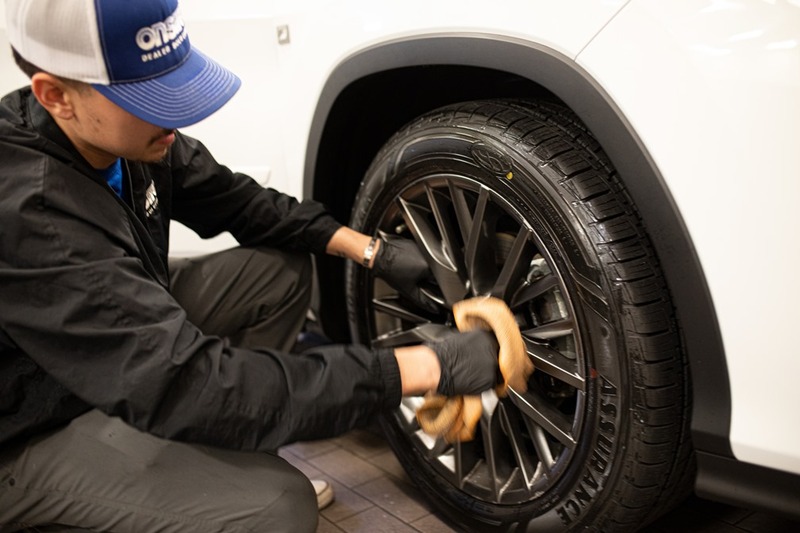 The automotive industry is highly competitive, and dealerships must constantly strive to deliver exceptional vehicles and services to their customers. One aspect that plays a crucial role in this process is the appearance and condition of a dealership's inventory on the lot. That's where OnSite Dealer Solutions (ODS) comes in.
As a leader in the automotive labor outsourcing space
, ODS offers comprehensive car detailing and auto reconditioning services and staff that set dealership make ready departments, across the country, up for success. In this blog, we'll explore how ODS is transforming the car dealership experience and why dealerships turn to OnSite for their detailing and reconditioning expertise.
A Partner for Dealerships
- OnSite Dealer Solutions understands that car dealerships have their hands full with various operational tasks, from sales and service to financial management. As a result,
car detailing and auto reconditioning can become a time-consuming and resource-intensive process for dealerships and fixed operation managers
. This is where ODS steps in to help take over as a trusted partner. We provide…
Expertise in Car Detailing:
ODS offers a team of highly trained professionals with specialized expertise in car detailing. With a fully insured and vetted detailing staff, complete with a
detail department manager
that oversees the operation, ODS works with the dealership's team, onsite, to form one cohesive unit that results in expert detailing, faster speed to market, and improved customer satisfaction.
Whether it's a new car that needs a once over, a trade-in that requires extensive detail work, or a service customer's car seeking a thorough detailing experience, ODS ensures that every vehicle shines and is ready to impress.
The appearance of vehicles on the lot can significantly impact a dealership's reputation and its sales
.
Just as important, ODS understands that inventory and service turn times are vital to driving revenue and lowering dealership costs.
With an Average Days in Recon (ADR) for most US car dealerships hovering around 5-10 days, ODS and our team, work with the goal of completing lot ready details in 48 hours or less and service order details in 2 hours or less
.
Customized Solutions:
ODS recognizes that every dealership is unique, and their needs almost always vary. OnSite offers a variety of
customized dealer solutions
that meet a host of specific job roles in car dealerships. ODS also offers, with every new customer, a proven
DMS integrated software solution
that allows a dealership to track inventory, vendors, and work orders seamlessly in one place. Whether it's a one-off solution that ODS provides, or a mixture of services to implement, OnSite adapts services to ensure simple integration within the dealership's existing operation.
Savings in Time and Resources:
By outsourcing car detailing and auto reconditioning to ODS, dealerships can save time and resources, eliminating headaches that come with hiring, payroll, scheduling, and insuring internal staff. This allows them to focus on their core business functions, such as sales and customer service, while ODS takes care of making every vehicle look its best.
Finding and retaining good staff to fill
porter
,
greeter
,
valet
,
car wash attendant
, and
car detailing positions
takes a significant amount of time. The same goes for hiring several third-party vendors to manage
headlight restoration
,
paint protection
,
wheel repair
,
inventory photography
,
dent removal
and
window tinting
. Why not look at hiring a team, like ODS, that can do it all for you?
We encourage you to learn about our flexible labor solutions and take a deeper, more robust look at the
human resources and fixed operation savings OnSite Dealer Solutions provides our partnerships
.
Consistency and Quality:
Consistency is key in the automotive industry. ODS ensures that every vehicle receives the same high-quality detailing and reconditioning services. This consistency not only enhances the overall customer experience but also helps dealerships maintain their brand image.
The proof, we feel, is in our work and backed by our
incredible customer reviews
, but when we peel back the curtain, it's really the motivation and training of the ODS team, as well as OnSite's custom dealership incentive program that encourages quality performance and top-tier results that truly separate us.
ODS Detail Department ServicesScalability:
Whether you're an independent car dealership or part of a large automotive group, ODS has the scalability to accommodate your needs, no matter your location in the country. As your dealership grows, our services can expand with you, as well as our team, ensuring that you maintain the same high standards across all locations.
Another major contributor to our client's success in lowering their overall operating expenses and liability costs is ODS and our staff are flexible, meaning ODS manages and schedules our entire team onsite versus the dealership having to manage this often-cumbersome task. Being that the ODS production and scale of work is based upon the dealership's sales production and service needs,
your select ODS make ready team can be customized to fit the customer
.
ODS Serves the Following States
:
•
Arizona
•
Washington
•
Colorado
•
Kansas
•
Minnesota
•
Missouri
•
Nebraska
•
Nevada
•
Oklahoma
•
Texas
ODS Adapts with Our Customers
In the competitive world of car dealerships, every detail matters. OnSite Dealer Solutions understands the significance of vehicle appearance and condition and has positioned itself as a leader in the industry by providing car detailing and auto reconditioning services that set dealerships apart from their competitors.
By partnering with ODS, dealerships can enjoy an enhanced reputation and all the benefits of expertise, customized solutions, cost savings, consistency, and scalability in one swoop
. A move to ODS not only increases the bottom line in an otherwise difficult sector to make money in (make ready) but also frees up valuable time and resources to focus on core business activities that drive business revenue and customer experience.
If you're looking for a trusted partner to elevate your dealership's car detailing and auto reconditioning services, OnSite Dealer Solutions might be the answer. To find out, we encourage your dealership to try our
complimentary labor analysis
that identifies potential savings a thorough labor audit will most definitely identify.
We also invite you to
get to know ODS
by meeting
our team
, viewing
our gallery
, and learning about
our unique history
. We are ready to help your dealership shine and succeed in the car detail and auto reconditioning market. If we can help answer any questions you may have, reach out to us at 913-912-7384 or feel free to
message us directly here
.