Revolutionizing Oklahoma Car Detailing and Make Ready
Posted Date: 10/26/23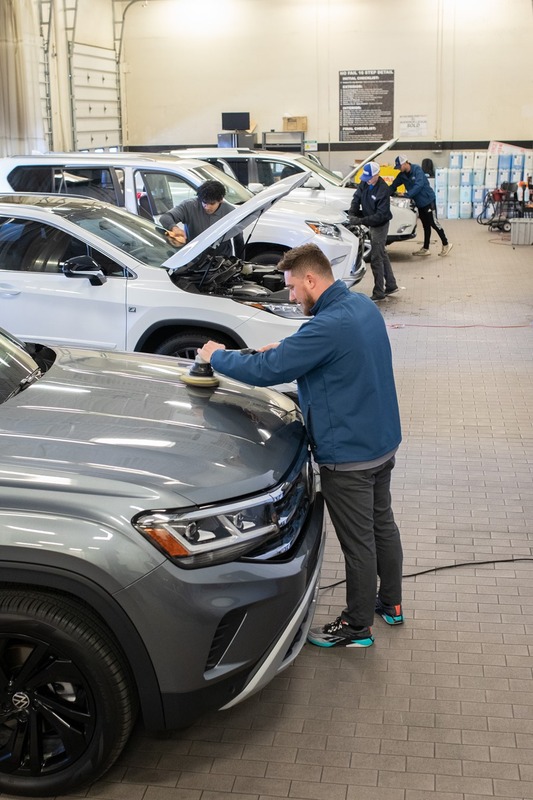 In the fast-paced world of car dealerships, first impressions can make all the difference
. Customers walking into your lot expect to be greeted by a showroom of vehicles that are not only mechanically sound but also immaculately clean and ready for the road. This is where OnSite Dealer Solutions (ODS) comes in, transforming car detailing and reconditioning services for dealerships across the great state of Oklahoma and beyond.
WHO IS ONSITE DEALER SOLUTIONS?
ODS is a nationwide labor outsourcing company dedicated to redefining the car dealership experience.
Revolutionizing the "make ready department", ODS eliminates wasted movement, improves inventory turn times and increases customer satisfaction index (CSI) scores and effeciencies in car dealerships in Oklahoma and across the nation
. We are a team of
car detailers
,
car reconditioning technicians
, and
skilled automotive staff
that works hand in hand with your car dealership's team to ensure that every vehicle on your lot is washed, cleaned, serviced, and ready for sale quickly and professionally.
Speed to market is everything in our business model
!
The Average Day in Recon (ADR) for a car to be ready for sale at a dealership varies across the country but is typically anywhere from 5 to 10 days
. The longer it takes, the more money it's costing a dealership to sit on their inventory. Whether ODS is detailing one of your customers cars that's brought in for service, deep cleaning a car taken in on trade or prepping a new vehicle just off a transport truck,
ODS has an ADR average of 2 days
.
No matter whether ODS is offering window tinting services, car details, windshield, headlight, dent, or wheel repair or we are staffing valet, greeter, delivery driver, and porter job roles,
you can count on ODS doing a standout job for our Oklahoma dealership clients and the customers they serve
. In addition to labor services, ODS clients receive our proprietary
DMS integrated inventory and vendor management software as a solution
(SaaS) which allows for more effecient accounting, billing, invoicing, vendor management, and inventory tracking.
THE ODS DIFFERENCE
:
On-Site Expertise: At ODS, we believe in bringing the experts to your doorstep. Our teams of specialists operate right within your dealership, eliminating the need for you to coordinate with external detailing and reconditioning service vendors. This streamlined approach ensures a quicker turnaround, less labor costs and headaches while improving your overall operational preformance.
Customized Solutions: ODS understands that every dealership is unique, with distinct needs and preferences. Our services are tailor-made to fit your requirements guaranteeing that each vehicle in your inventory is presented in the best possible condition and that we aren't under or overstaffing for low and high-water mark days.
Comprehensive Services: Our teams cover a wide range of services, including but not limited to exterior car detailing, paint protection, ceramic coating, buffing, polishing, and interior detailing. Whether it's a quick wash and vacuum or a complete car detail restoration, ODS has you covered.
Nationwide Network: While our headquarters are rooted in Kansas City, ODS has been committed to delivering quality car detailing and make ready solutions in the great state of Oklahoma since opening our doors in 2011. Our master car detailing services extend to car dealership clients in cities like Oklahoma City, Edmond, Norman, Moore, Tulsa, Midwest City, Enid, and Bartlesville. Regardless of your dealership's size or location, ODS is available to support those operating in Oklahoma.
THE ODS APPROACH
:
Quality Control: We have a rigorous quality control process in place to ensure that every vehicle is meticulously detailed and inspected to meet the highest of standards. Your customers will be greeted by vehicles in showroom condition every time.
Efficiency: ODS operates with a commitment to efficiency. Our make ready teams work seamlessly alongside your service department staff, reducing downtime and ensuring that vehicles move through the detailing and reconditioning process swiftly.
Cost-Effective: Outsourcing your dealership's make ready department to ODS can result in significant cost savings. We bring skilled labor and expertise without the overhead of hiring, training, and retaining your own staff.
Increased Sales: Well-maintained vehicles are more likely to attract potential buyers. ODS helps your dealership sell vehicles faster and brings speed to market to your inventory, positively impacting your bottom line.
EXPERIENCE THE ODS ADVANTAGE
:
At OnSite Dealer Solutions, we're dedicated to revolutionizing the car dealership experience, one vehicle at a time
. By establishing a true make ready department within your dealership that offers superior car detailing and reconditioning services, we're committed to making your vehicles shine, enhancing customer satisfaction index scores, and improving your overall sales performance.
With over 160 nationwide dealer clients, and 500+ W-2 trained, vetted, and insured ODS employees, we provide car dealerships a nationwide network of specialists that not only get the job done well, but provide real experience from servicing over 250,000 vehicles a month.
Other States ODS Serves
:
Join hands with ODS and take your Oklahoma car dealership and its make ready division to new heights
. If it's time to put your best wheels forward, give ODS a call at 913-912-7384 or take advantage of our
complimentary labor analysis
to see if joining forces with ODS is the right choice for your dealership!